Post by emuku on Dec 6, 2009 15:26:26 GMT -5
What do you think would happen, if oh I dont know, a group of wolf demons are sent to live in a human high school in order to "see the other side of argument?". Well guess what? I'm about to find out.
My names Gardnar, I'm just your adverage anti-social wolf demon amoung my peirs. I've been choosen to lead this little group of 8 wolf-demons, much to my distaste, for a whole year. Rules have been applied.
1. No one must find out who we are, should someone find out, the project will be terminated.
2. Stay in human form, no full form, or half form allowed.
3. We have to be careful not to hunt any peoples pets
4. Stay away from pudding at all costs
5. Keep your grades up.
As wolf demons we have a pretty weird weak-ness. We can't eat pudding. Peirod. Should any one of us eat it, we will change into our true wolf/dog form and be paraziled. No one knows why tho. Seams pretty easy right? Wrong, humans and wolf demons have been at war for years. They claim that we're " A danger to all mankind, mind-less beasts who only want to kill." Knowing that, it going to be so fun to live amoung them for a whole year. Not to mention the house they bought for the 8 of us, wolf-demons like to keep there space. So all of us know its goning to take a while to set boarders.
Some one help me.
~~~~~~~~~~~~~~~~~~~~~~~~~~~~~~~~~~~~~~~
Ok, here we go! only 8 wolf demons allowed, the rest are human. 3 characters per person. I'll add more rules later.
Characters
Gardnar - Wolf Demon - Emuku
Amanda/Andy - Wolf Demon - Emuku
Roy - Human - Emuku
Bio's
[b]Name:[/b]
[b]Age:[/b]
[b]Gender:[/b]
[b]Race:[/b]
[b]Apperance: [/b]both human and wolf/dog if a wolf demon
[b]Personality:[/b]
[b]Other:[/b]

~~~~~~~~~~~
Name:
Gardnar
Age:
18 human, 20 demon (wolf demon's age 2 years faster then humans)
Gender:
Male
Race:
Wolf Demon
Apperance: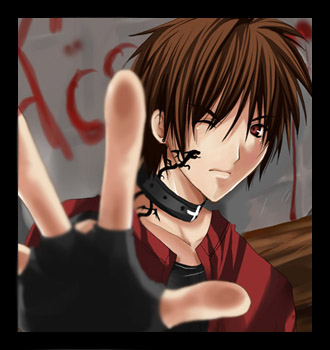 Personality:
Gardnar is a bit anti-social. Prefuring to stick with his friends he wont go out of his way to make any more friends. He's nice, sweet, and considerate to friends, but he appeares cold, mean, and un-caring other wise.
Other:
None
Name:
Amanda, Andy to friends
Age:
17 human, 19 wolf demon
Gender:
Female
Race:
Wolf Demon
Apperance:
Personality:
Andy's a pure blooded tomboy. She loves to get out there and do things, a bit of a punk rocker she loves loud music. Hates pink and girly things liike cheerleading. Andy's really go lucky, and doesn't put much thought into things before doind and or saying them. Nice to just aboue everyone, but her temper is something to be feared.
Other:
Nope
Name:
Roy
Age:
18
Gender:
He's a Dude
Race:
Human
Apperance:
Personality:
Roys a jock, who loves to play football. One of the popular kids. He likes making friends, but most of the time isn't a great judge of character. Usualy hanging a few of the snobby kids, which makes him look that much cooler. But he still has alot of cool nice friends.
Other:
Natta